THE NEW SS22 SEASON HAS ARRIVED | Keywords Color and Energy
Color and energy
These are the keywords of the new spring summer 2022 collection of Alto Milano made in Italy socks.
For this season we let ourselves be carried away by light fabrics, transparencies and openwork. In the imagination we have an extremely romantic and chic woman, alongside an elegant and refined man, in step with the times but always taking into account the history that characterizes Alto Milano.
Animal prints, all kinds of stripes and geometric motifs.
A sparkling and eclectic collection, an ALL TASTES PLUS ONE collection!
Are you curious? Here is one of the new Maral women's short socks
The short sock in Maral viscose, obviously made in Italy and finished by hand, is the perfect example of the vaguely 60s geometric patterns, super colorful, which will be a must for this season. Perfect under jeans and eccentric combined with trousers, you can wear it with any shoe and always be fashionable and refined.
We talked before about transparencies, so how can we not mention Ilia
Ilia, a short sock in viscose and filanca, also made in Italy, is more than just a sock, it is the accessory you will never want to do without. It is characterized by transparent puffs in relief, which create beautiful volumes and make the shoe stand out. One of a kind, Ilia can be found in several summer colors, each more beautiful than the other.
And where do we leave our men?
Also for the spring summer 2022 men's collection, Giulia Baratti, the creative director of Alto Milano was inspired by the image of the 60s, where elegance was the watchword. In this case, all the redundant patterns are out and welcome back ribs and jacquard in a modern key, with fresh and versatile colors. A must have this season are definitely the ton sur ton embossed patterns, to be classy but never banal.
Let's not forget the strength of all Alto Milano products: made in Italy and the highest quality yarns selected to create a long-lasting and recognizable product over time.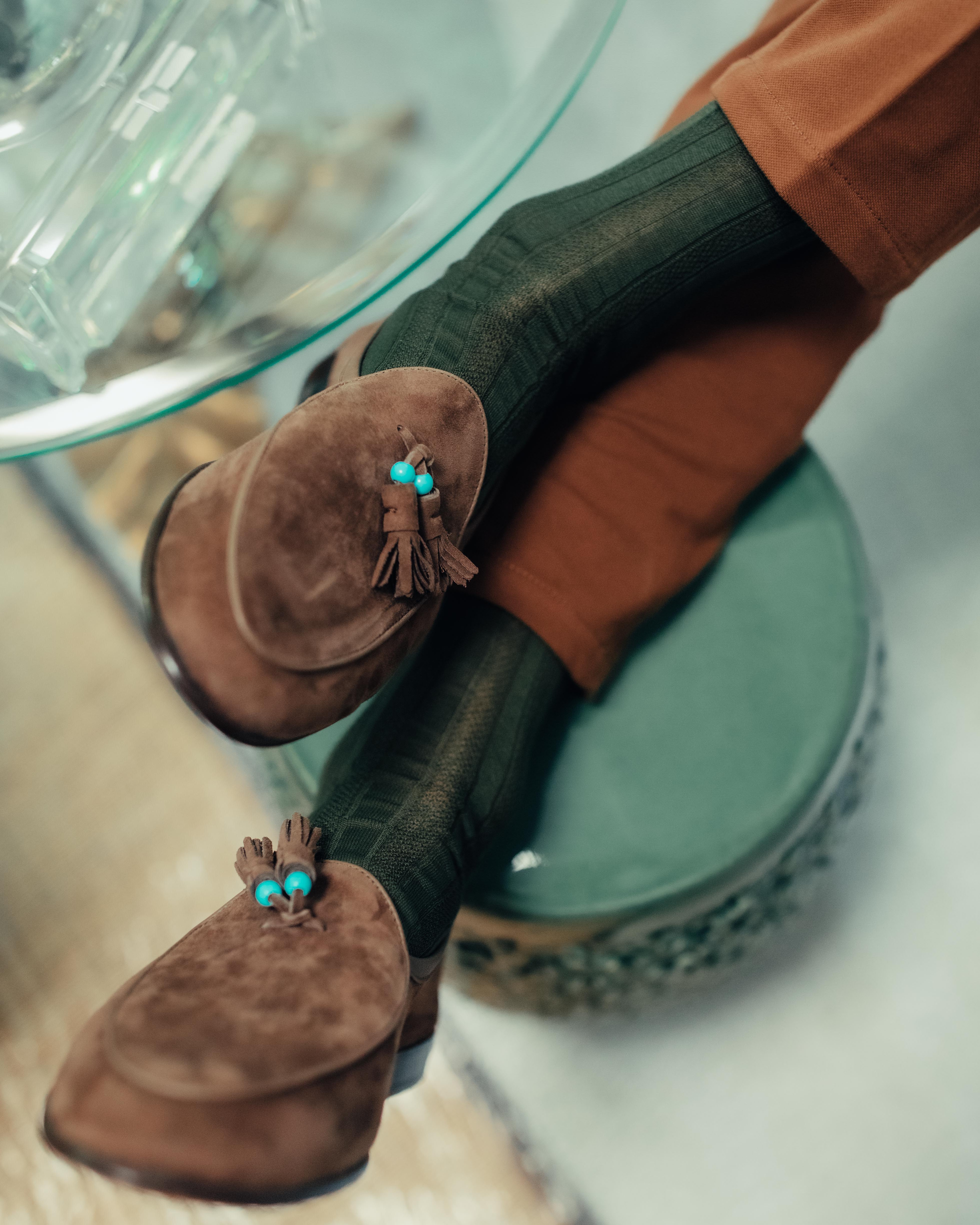 The sock features a vanisè baguette pattern that makes it classy and refined, while the contrasting cuff gives it a more casual look. In short, a versatile item suitable for all occasions, with a vintage taste.
Now let's talk about the new ghosts, developed in different sizes to cover all existing needs. We present you Fedro:
In the photo the phantom sock in Fedro cotton, recognizable thanks to the widespread "A" pattern. A true icon of our brand, it is made with top quality yarns and obviously like all other Alto Milano socks it is Made in Italy and finished strictly by hand.
There are many new features in this collection, but there are things that will never change, such as the attention to detail, the passion and hard work that have distinguished Alto Milano for years.
All you have to do is run and discover the spring summer 2022 season!