Woman's sock has never been this glamour and Alto Milano is the undisputed manufacturer
Woman's sock is now the main character in the outfit and not an accessory anymore. Make its way through eccentricity, style and attention to details.
We are talking about him, the woman's sock. The keeper of the mystery of mismatched and never again matched socks. Forgotten in the corners of the bathroom. From now on things change. You will touch with hand the quality of our special socks, made with high quality yarns and 100% Made In Italy. The colors, the fabrics, the sophistication comes out in an elegant manner, provoking, but never showing off. Elegance spun into a scock.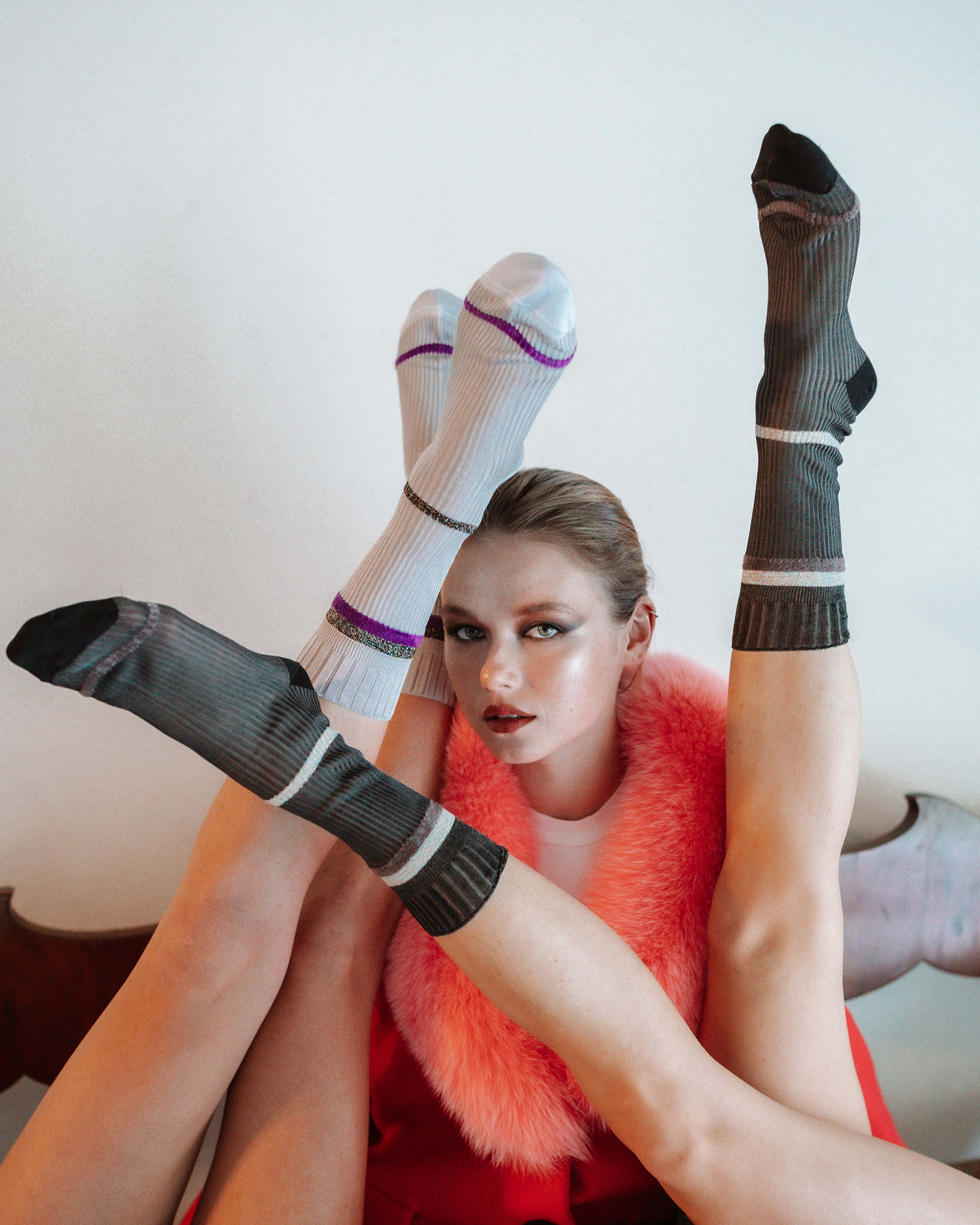 The sock, the star of your wardrobe, for work or for parties. He's there. "here your magesty!"
The photoshoot was made in a villa in Bologna, an old and vintage barn, renewed through recycling of materials and attention for the environment.
Similarly, the new collection is realized by keeping an eye on the past and the other on the future. Made to give to the brand an clear and precise identity, as stated by Giulia, creative director. "My objective is to give importance to the brand. If in 10 years' time you find a pair of woman's sock designed by us in your drawer, you will notice straight away the quality, the work and the passion that we have been putting in our products for almost 100 years".
As a matter of facts, nonno Luigi introduced with creativity brightly patterned knits ang Giulia, representing the fourth generation in the company, feels the need to continue what her grandfather introduced. Therefore the new collection is based on elegance and sophistication. The chic woman's sock, with that pinch of flair that impresses AM on your head and in your everyday dreams.
The woman's sock becomes as important as that piece of clothing or accessory that you cannot renounce to. LV's bags, Celine's sunglasses, Chanel's ballerina shoe. In this way Alto's sock becomes stands out in outfits for the fall-winter season and becomes that detail that makes you stand out, if you want, or otherwise to cuddle you during a working day. Hided, but present and you recognize it.
Check is the predominant pattern for the season, both for man and woman. Woman's sock come with lurex which intervenes scratching, but never heavily. Animalier, vanisè, fringes are applied in a new and unusual way. Man style with polka dots, rugby row and Windsor reconfirms classics in a new key.
Woman's sock does not have rivals, it steals the scene to everybody.
Instead, for who dares and is not scared of the worst Miranda Presley's reaction, UPPER is here for you. Would you like shoe-socks? Or A sock over the shoe? Upper allows you to wear it above a décolleté while walking in Montenapoleone Street in Milan, making it difficult for fashion influencers to understand from where did the trend start.